10 REASONS TO EAT YELLOW FRUITS AND VEGGIES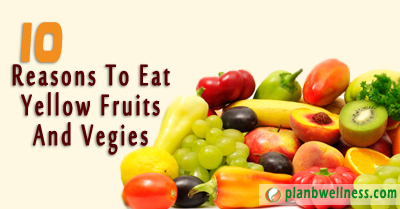 Bright colors can be an instant mood booster, particularly the color yellow. This sunny hue represents happiness, joy and hope. When you seek out and consume yellow-colored foods, you nourish your body, mind and soul with many of Mother Nature's health benefits.
Yellow fruits and vegetables are teeming with carotenoids and bioflavonoids, which represent a class of water soluble plant pigments that function as antioxidants. Along with antioxidants, sunny-colored foods also have an abundance of vitamin C. Studies suggest that these bountiful nutrients will help your heart, vision, digestion and immune system. Other benefits of naturally yellow foods include maintenance of healthy skin, wound healing, and stronger bones and teeth.
These bright-coloured fruits and vegetables contain zeaxanthin, flavonoids, lycopene, potassium, vitamin C and beta-carotene, which is vitamin A.
The nutrients help our bodies in many different ways, from our eyes to our bones:
Aids in eye health and reduces the risk of macular degeneration of the eye
Reduces the risk of prostate cancer
Lowers blood pressure
Lowers LDL cholesterol (the bad cholesterol)
Promotes healthy joints
Promotes collagen formation
Fights harmful free radicals in the body
Encourages pH balance of the body
Boosts immune system
Builds healthier bones by working with calcium and magnesium
There are so many yellow fruits you can embrace such as:
Oranges
Grapefruit
Lemons
Ugli fruit
Pummelos
Bananas
Apricots
Nectarines
Persimmons
Mangos
Peaches
Cantaloupe
Pineapple
Papaya
Starfruit
Just to name a few. Also, we can't forget about veggies:
Carrots
Sweet potatoes
Pumpkin
Butternut, acorn and summer squash
Corn
Orange and yellow peppers, and
Yellow beets
Don't forget about herbs like ginger that also share this colour. So as you can see, there is no shortage in the array of fruits and vegetables we can choose with these sunshine hues.
If you have gained anything from reading this, don't hesitate to share it with others too. Put your comments and questions or topics you will like us to write about in the comment box below.
Stay Healthy And Never Give Up!
Plan B Wellness Center
Tel – 08099666650
Email – consult@planbwellnesscom
Twitter – @planbwellness
Add Your Comments
comments