ANOTHER BABY GIRL FROM ONE OF OUR PATIENTS
News of 3 babies within one week…GOD IS GREAT!!!
Just last week, one of our old patients that we treated for  uterine fibroid and secondary infertility came visiting with a baby boy of 41days old in her hand to rejoice with us. She took in while on our fibroid treatment and was advised to see her doctor to confirm if she could carry the baby safely and the answer was yes.
9 months later, she has her baby boy now after a delay of about 5 years after having her first son. We have asked her to write about her experience and testimony. You know, at Plan B Wellness Centre, that we like to have our testimonials direct from the source with verifiable proofs.
On Sunday also, we received an SMS on the company's official line of another baby girl from one of our patients. Their own case was even a bigger testimony. The challenge of the infertility (after several years of marriage) was coupled with lack of enough money to take the treatment. As God would have it, we took up the responsibility and God said yes to it just in few weeks to the treatment.
Below is the screenshot of the SMS sent in by the husband and our reply to him;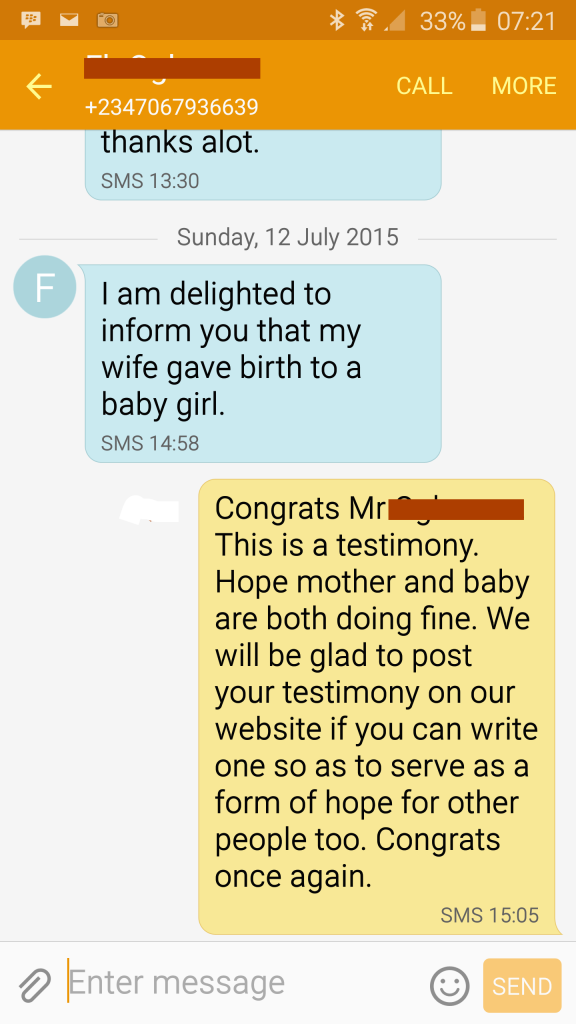 Just while preparing this write-up, another call entered from someone in Abuja that, just by faith (after following us online and signing up for our newsletter for some time), referred someone to us from Ilorin for infertility treatment and Asherman's Syndrome Treatment. She broke the news that the woman gave birth to a bouncing baby girl yesterday. This seems to be a season of babies for us at Plan B Wellness Centre.
Our prayer is that those who are still on the treatment and those who are having one challenge or the other should have their own testimonies soonest too.
The truth is that we have a lot of testimonies like this and they come regularly which is an indication that our treatments are effective.
We pray all those reading this with one challenge or the other concerning infertility will soon have their own testimony too.
You can read about our various natural treatments by clicking here. 
Stay Healthy And Never Give Up!
Plan B Wellness Center
Tel – 08099666650
Email – consult@planbwellnesscom
Twitter – @planbwellness
Add Your Comments
comments