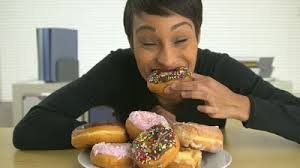 Good Morning, This morning, I will like to share with you a real live example of how bad choice of food, in most cases not intentional but due to ignorance, can frustrate one's efforts in getting rid of fibroid naturally and permanently. Below is the capture of an email sent to me by one the clients undergoing our natural fibroid treatment. It is amazing how at the early stage of her treatment she started getting positive result like reduction in excessive menstrual bleeding and abdominal pain. To some extent, the fibroid masses have started dissolving and her tommy has started coming down. She was on her treatment only to discover later that the bleeding has returned and the stomach has started swelling again…see her mail below
Fortunately, it's not long before she realized that this negative turn-around in her treatment was due to bad choice of foods and now she is willing to retrace her steps and learn from the lessons we have been sharing on our blog and email concerning fibroid and choice of food See, bad choice of food intake could have more negative effect on your health more than you can imagine. So, I want you to follow the lessons we share on food seriously and act on them. Do you also have any experience concerning fibroid and food? Share with us below and let's educate more people on this subject matter. Share this article with as many women as possible and don't forget to give us your feedback via the comment box below this article.   
Stay Healthy And Never Give Up!
Plan B Wellness Center
Tel – 08099666650
Email – consult@planbwellness.com
Twitter – @planbwellness
Add Your Comments
comments