ENDOMETRITIS OF OVER 10YEARS GONE AT LAST
Here is a story of a woman that has been battling with Infertility for over 10years. Different medical investigations have been carried out on her to confirm that her infertility is due majorly to Endometritis, and Ovarian Cyst  of 53mmx47mm size as shown in the scan result below;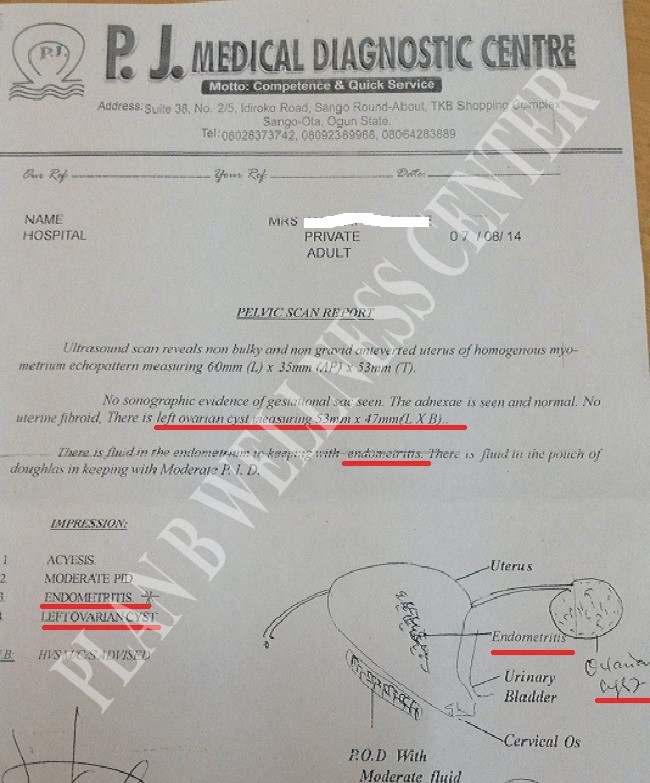 With these conditions, it may actually be very difficult for a woman to conceive. This woman, along with her husband, has spent a lot of money seeking for solution to this problem. You know what it means to be sleeping and be waking up with the same problem for over 10years – most especially when the problem concern pregnancy!
Sometime last year, the woman got our contact details through someone who had taken our treatment and got result, she contacted us and brought her medical reports all the way from Ogun State. Not believing that it could be true that we have guaranteed treatment for her situation too, she forced her husband to come down to Lagos with her to our office too.
After confirming that we are genuine, now, the battle is that of money. They didn't have enough money to take the complete treatment for endometritis and ovarian cyst at the same time. Or maybe they were just being skeptical. May be they wanted to reduce their risk just in case it did not work. There is nothing we could do than to just assist them.
We had to place her on the treatment, though not completely. After finishing the first round of what she got from us, she went for scan in October and got a surprise. Her Ovarian Cyst has reduced in size from 53mmx47mm to 40mmx36mm for the first time ever and the Endometritis has also become MILD, according to her scan report. See for yourself below. She took this in October;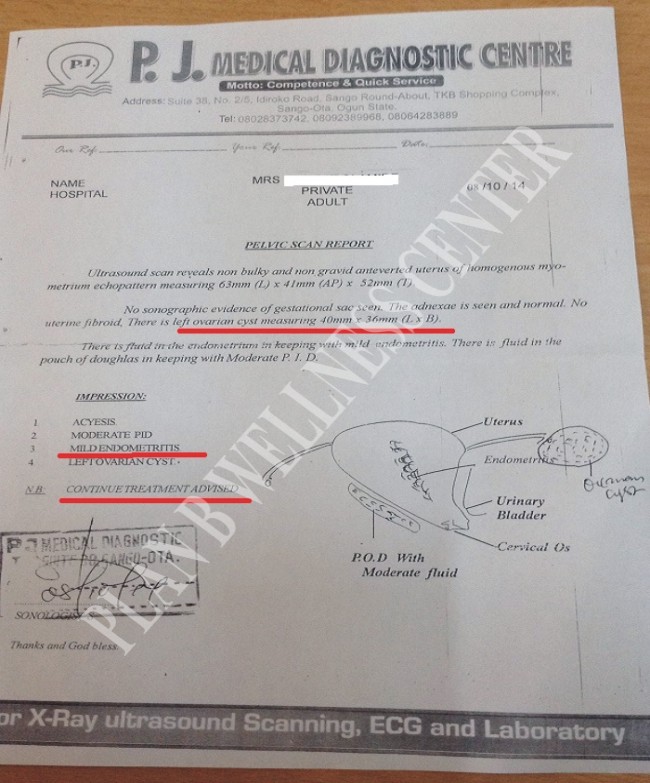 This woman was exited, came down to our office again from Ogun State and rained prayers on us with her husband. She was exited to take another step forward in her treatment.
In December, she went for another scan to know just what's going on and she got the scan result below…Her Endometritis is gone totally and the Ovarian Cyst has also reduced further from 40mmx36mm in October to 33mmx26mm…see the attached scan report below;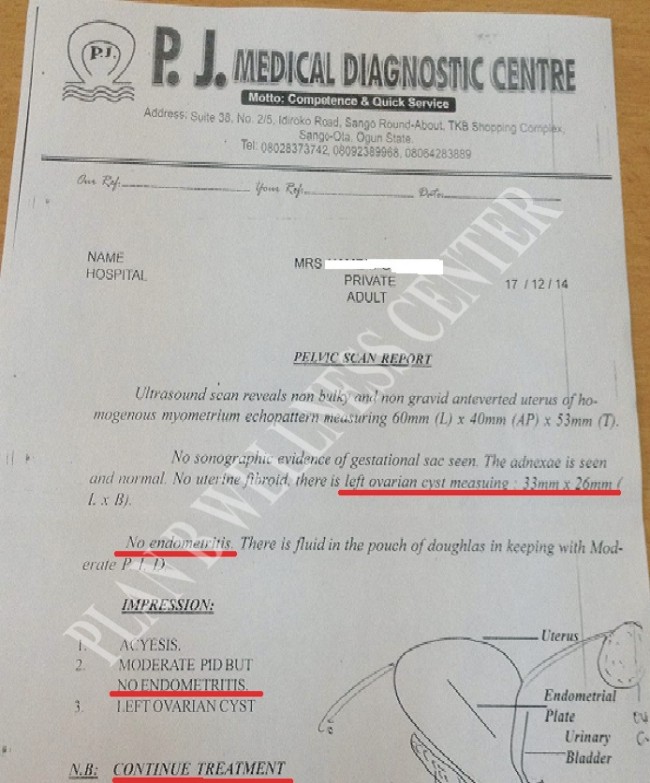 She, along with her husband, confessed that nothing ever they have used has helped them as our treatment has done within a short period of time. Don't forget, 3-4 months is nothing to a couple that have been waiting for over 10 years to get a solution.
Actually, it does not take this long for our treatment to clear ovarian cyst as we do record successes within a period of one month several times even if the person is placed on a 3 months treatment plan. This particular case is a complex one, beyond just a cyst and that's why we are sharing it with you.
Due to the Endomteritis, her menstruation has been greatly affected. It's been seizing for some time prior to the commencement of our treatment. While on the treatment, the menses resurfaced again. She has also said a final bye-bye to Menstrual Disorder as a result of taking the treatment. She is still on her treatment to get rid of the ovarian cyst too finally.
What amazes us most is about where she's been running her scan. They always put below her report a small note that reads – ''CONTINUE TREATMENT ADVISED''.  Sure, they may not even know what she is using, but whatever it is, they have advised her to continue and they can confirm that it's working for her.
Our next goal is in working with this woman to get pregnant like our other clients.
Note that we get news like this in almost on a daily basis. We have decided to only share those with verifiable proofs.
Add Your Comments
comments