HEALTH BENEFITS OF WARM WATER & LEMON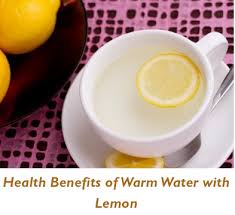 One of the lessons we taught participants at our last Free Health Talk/Medical Check-up in Lagos was how to use their diet consumption to prevent and manage diseases. Lifestyle is one of the reasons why some diseases are common today than ever before. If you can't do much to control how what you consume are being made, you should be able to control how you consume them.
Accumulation of toxin in the body over time from different meals and also from the environment is another thing. Therefore, you need to take action against this if you don't want it to lead to something disastrous to your health in the long run.
So, in our last Health Talk, we shared a simple fruit juice recipe that can help you with your in 7 different ways as stated below. But for the sake of those who could not attend due to distance, I will share it here again.
When you wake up every morning, the first thing you should drink is warm water and lemon and before you sleep do the same thing. I recommend this to my clients always. Drinking warm water and lemon has so many benefits and at the same time it makes one feel hydrated. You should also drink lemon water first thing in the morning to kick start your digestive system.
Benefits of Warm Water & Lemon
Recipe type: Juice
Ingredients
Instructions
Juice ½ lemon (with peel if organic. In fact, make sure it's organic)
Add it to 1 cup of warm water
The way you start each day is incredibly important. That's why you should start it with one cup of warm water and half a lemon.
Here are 7 reasons why you should start your day with 1 cup warm water and 1/2 lemon;
Immune Booster – Vitamin C is probably one of the easiest and fastest ways to boost your immune system. Lemons are packed with vitamin C. Vitamin C also helps neutralize free radicals that are associated with aging and disease. Vitamin C is great for the skin as well. It helps decrease blemishes and acne. Drinking one cup of warm water and lemon everyday will dramatically decrease acne problems and wrinkles as well. Since lemons are high in vitamins, toxins, unwanted minerals and other substances are pushed out from the body. Lemons are also high in potassium. Potassium is especially important because it helps regulate blood pressure and is important for nerve function. 
PH Balance – Drinking warm water and lemon helps you maintain an alkaline state. Even though lemon juice is acidic, it doesn't create acidity in your body, it's actually one of the most alkaline foods.
Liver Function – Lemon juice is amazing for liver function. Lemon juice promotes healthy liver function because it strengthens liver enzymes, regulates carbohydrate levels and increases the production of enzymes. Adding lemon juice (1/2 of a lemon) to warm water and drinking it every day works as a great liver detoxifier.
Blood Vessels – Lemons contain vitamin P (bioflavinoids) which prevent internal hemorrhage and thus is another great way to reduce blood pressure.
Cleans You Out and Aids in Digestion – Lemon juice, like most fresh vegetable juices contain pectin fiber. Pectin fiber is a type of water soluble fiber that helps reduce LDL (bad) cholesterol levels. Another great thing about pectin is that it keeps you feeling full and reduces cravings.
Natural Diuretic – Lemon juice and warm water also help increase the rate of urination. This is great because toxins and other harmful substances are pushed out of your body, leaving your body in a alkaline state.
Hydration of Lymph System – Warm water and lemon juice supports the immune system by hydrating and replacing fluids lost by your body. When your body is deprived of water, you can definitely feel the side effects, which include: feeling tired, sluggish, decreased immune function, constipation, lack of energy, low/high blood pressure, lack of sleep, lack of mental clarity and feeling stressed just to name a few. When you have these symptoms, it might mean that your adrenals are "fatigued." Your adrenals function in secreting necessary hormones, regulating stress response, regulating blood pressure and much more. So keep your adrenals happy by staying hydrated.
This is another juice recipe for you to manage your health in the most natural and cheap way possible. Don't just read for the fun of it, you need to try it. You will thank me later for it.
Share this with as many people as possible via the social share button below. Help your fellow brethren learn.
Having your feedback concerning this juice recipe or any other one you have tried before will be so nice. Kindly add your feedback, questions and comments in the box below. Let's interact!
To get more of this juice and even food recipes that can help you improve on your health click here
Stay Healthy And Never Give Up!
Plan B Wellness Center
Tel – 08099666650
Email – consult@planbwellness.com
Twitter – @planbwellness
Add Your Comments
comments