LONG TERM RISKS OF UNDERGOING HYSTERECTOMY
Hysterectomy is the surgical removal of the uterus and you will learn about the risks involved in this surgical procedure in this write-up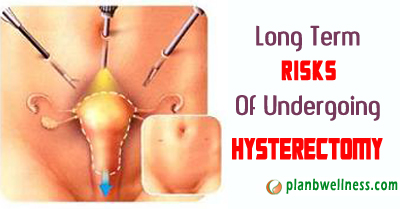 Hysterectomy is the surgical removal of the uterus. It may also involve removal of the cervix, ovaries, fallopian tubes and other surrounding structures. The association between hysterectomy and early menopause have long been a concern and have been examined in a number of studies. Early menopause has serious health implications, including increased risk for osteoporosis, cardiovascular disease and all-cause mortality.1 This also means that women who have undergone pre-menopausal hysterectomy may warrant closer monitoring of bone density or cardiovascular risk factors because of the possible risk of early ovarian failure.
Two large prospective studies have recently been published which discuss the long term risks to women undergoing hysterectomy under age 50;
1) Women undergoing hysterectomy are at a significantly increased risk for earlier ovarian failure.
The PROOF study2 (Prospective Research on Ovarian Function) undertaken at the Duke University Health System (Durham, North Carolina) compared 465 women (aged 30-47) scheduled to undergo hysterectomy to a control group of 518 women. After four years, there was a two fold increased risk for ovarian failure among women undergoing hysterectomy (15%) as compared with women of similar age with intact uteri (8%). The risk for ovarian failure was greater for women who had a unilateral oophorectomy (the removal of the ovaries to treat or prevent ovarian cancer or other ovarian abnormalities) along with their hysterectomy but it was significantly increased for women who retained both ovaries. This is consistent with Farquhar3 who also reported an increased risk for ovarian failure among women with hysterectomy and that it was more pronounced for women with unilateral oophorectomy.
Click here to get more details about a natural treatment of Premature Ovarian Failure (POF)
2) Hysterectomy in women aged 50 years or younger substantially increases the risk for Cardiovascular disease (CVD); Oopherectomy further adds to the risk of both coronary heart disease and stroke. 
A nationwide population-based cohort study using prospectively recorded data from the Swedish national health registers4 (encompassing >800 000 women at risk) studied the risk of Cardiovascular disease (CVD) after hysterectomy for benign indications, with or without oopherectomy. They reported that a hysterectomy and/or an oopherectomy before age 50 (median age of onset of menopause in Sweden) was associated with a substantially increased risk of later life CVD, both for coronary heart disease, as well as stroke.
In women under the age of 50, hysterectomy alone (without an oopherectomy) was associated with an increased risk of CVD (20%) compared with women with an intact uterus. This finding corroborates the notion that hysterectomy interferes with ovarian blood flow and may result in premature ovarian failure and hormone-related effects. Having an oopherectomy during hysterectomy further increased the risk.
The adverse cardiovascular effects of hysterectomy, and oopherectomy, were only notable in younger women, which strengthens the idea that the underlying biological rationale for an association between hysterectomy and CVD is likely to be found in ovarian failure.
This data corroborates other research showing that bilateral oopherectomy before the age of 50 increases the overall CVD risk. 5
 If you have been diagnosed of uterine Fibroids and you require an holistic natural treatment to help you get rid of fibroid without surgery, you should read about the Fibroid Remedy Kit.
If you have gained anything from reading this, don't hesitate to share it with others too. Put your comments and questions or topics you will like us to write about in the comment box below.
Stay Healthy And Never Give Up!
Plan B Wellness Center
Tel – 08099666650
Email – consult@planbwellness.com
Twitter – @planbwellness
References:
Gallagher Effect of early menopause on bone mineral density and fractures. Menopause 2007;14 567-71. Jacobsen. Age at natural menopause and all-cause mortality; a 37 year FU of 19,731 Norwegian women. Am J Epidemiol 2003;157:923-9. Mondul. Age at natural menopause and cause specific mortality. Am J Epidemiol 2005;162:1089-97. Jacobsen. Age at natural menopause and total mortality and mortality from ischemic heart disease: the Adventist\ Health Study. J Clin Epidemil 1999;52:303-7. Atsma, Bartelink et al. Postmenopausal status and early menopause as independent risk factors or cardiovascular disease: a meta-analysis. Menopause 2006; 13:265-79. 
PG Moorman, Evan Myers, Joellen Schildkraut et al. Effect of Hysterectomy with Ovarian Preservation on Ovarian Function. Obstetrics and Gynecology. Vol. 118, No 6, December 2011 pp 1271-1279 
CM Farquhar et al. The association of hysterectomy and menopause: a prospective cohort study. BJOG 2005;112:956-62 
Erik Ingelsson; Cecilia Lundholm; Anna L.V. Johansson; Daniel Altman. Hysterectomy and Risk of Cardiovascular Disease- A Population-Based Cohort Study. European Heart Journal. 2011;32(6):745-750.  
Parker WH, et al.. Ovarian conservation at the time of hysterectomy and long-term health outcomes in the nurses' health study. Obstet Gynecol 2009;113:1027–1037.Zhang Y, et al.. Hysterectomy prevalence and cardiovascular disease risk factors in American Indian women. Maturitas 2005;52:328–336. Atsma F, Bartelink ML, et al. Postmenopausal status and early menopause as independent risk factors for cardiovascular disease: a meta-analysis. Menopause 2006;13:265–279.
Add Your Comments
comments