PCOS – CAUSES, SYMPTOMS AND SOLUTION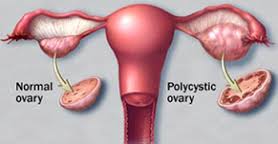 Polycystic Ovarian Syndrome (PCOS) may be one of the most complex female health issues of our time. It is the most common endocrine disorder in women of reproductive age. PCOS is accompanied by a variety of different health issues, many of which directly impact fertility in women. Classic PCOS presents with obesity, polycystic ovaries (multiple ovarian cysts that look like a strand of pearls), elevated levels of androgens and absent or irregular menstrual cycles. Not all women who will go on to be diagnosed with PCOS will have these issues/symptoms  though.
What Causes PCOS?
Doctors are unsure of what causes PCOS but information suggests there may be a genetic link, possible abnormal fetal development and inflammatory response contributing to the cause. PCOS is also negatively affected by diet, lifestyle and exposure to certain environmental toxins. PCOS directly impacts fertility, but has more other serious health implications as well, especially if left untreated.
Genetic Predisposition and Abnormal Fetal Development
Women whose mothers, sisters or grandmothers had PCOS are at a higher risk for developing PCOS. Research suggests that exposure to excessive amounts of male hormones (androgens) by the developing fetus may alter proper gene expression. This means that the affected genes will not function properly later in life, which may cause PCOS during the reproductive years of a woman's life.
Low-grade Inflammation
It has also been found that women with PCOS have low-grade inflammation, which may be a cause for insulin resistance. White blood cells produce substances to fight infection, this is known as inflammatory response. In some predisposed people eating certain foods, or exposure to certain environmental factors may trigger an inflammatory response. When inflammatory response is triggered, white blood cells produce substances that may contribute to insulin resistance and atherosclerosis.
Signs, Symptoms and Health Risks of PCOS
Signs and Symptoms of PCOS
Anovulatory cycles
Abnormal mid-cycle bleeding
Alopecia (balding)
Hirsutism (excessive body hair)
Acne
Acanthosis nigricans
Polycystic ovaries
Mood disorders
Obesity
Health and Fertility Risks Associated with PCOS
Possible increased risk for Endometrial and Breast Cancer due to unopposed estrogen
Cardiovascular Disease
Gestational Diabetes
How is PCOS Diagnosed?
When PCOS was first discovered, it was named Polycystic Ovarian Syndrome because of the presence of polycystic ovaries seen by ultrasound. Over time, doctors began to realize that PCOS was a complex array of health issues. This led to certain criteria that must be recognized to be diagnosed with PCOS, rather than just the presence of polycystic ovaries. In fact, some women with PCOS do not have polycystic ovaries. In order to be diagnosed with PCOS, the following should be evaluated by your healthcare practitioner: Pituitary and Ovarian Hormone serum levels
Luteinizing Hormone (LH)
Follicle Stimulating Hormone (FSH)
Estradiol
Progesterone
Prolactin
Circulating Androgens
Free testosterone
Free androgen index (FAI): 17-hydroxyprogesterone
Sex hormone binding globulin (SHBG): 24 hr. urinary free cortisol
Dehydroepiandrosterone sulfate (DHEA-S)
Endometrial Biopsy Glucose Tolerance Test Thyroid Panel Blood Lipid Profile Wondering what your test results mean? Please talk to your doctor in detail about what your test results mean for your fertility. Some doctors may tell you that you have mild PCOS. Women may have some or all of the symptoms of PCOS, some may have normal menstrual cycles and some may not. Testing is the best way to find out if you have PCOS for sure or not.
How PCOS Affects the Menstrual Cycle
What happens in a normal menstrual cycle? In very simple terms the hypothalamus produces GnRH (gonadotrophin-releasing hormone) which signals to the pituitary to produce LH (luteinising hormones) and FSH (follicle stimulating hormone). The release of GnRH is pulsatile in women with regular menstrual cycles. This normal pulsatile release of GnRh signals some of the follicles in the ovary to begin maturing and for the ovaries to release estrogen and progesterone. This estrogen/progesterone signal is recognized by the pituitary gland. As the follicles begin maturing, they release and increase the hormone estrogen over time. The rising estrogen level signals the pituitary gland to curb release of FSH. This communication allows for ovulation to occur. In women with PCOS, the menstrual cycle follows a different pattern of endocrine function and communication. What the menstrual cycle is typically like in a woman with PCOS… In women with PCOS, the cycle begins irregularly with the hypothalamus releasing GnRH in a higher than normal pulsatile frequency. This allows for increased LH and decreased FSH.This in turn leads to excessive production of the androgens, androstenedione and testosterone. This causes the follicle to only mature some, but not enough to achieve full maturity. This also allows for continued increase of estrogen, primarily estrone. During the development of the reproductive stage and during reproductive years for females, estrone is relatively low. Typically, we think of estrone to be associated with menopause, not women of reproductive age. The higher levels of androgens and estrogen creates a chronic state of low to very low progesterone. Classic polycystic ovaries are a result of chronic anovulation. Endocrine function is imbalanced from the very beginning of the cycle causing mild to severe hormonal imbalance, depending on the individual. Excessive levels of estrogen may also cause uterine hypertrophy, also known as endometrial hyperplasia. Unopposed estrogen may cause excessive cell proliferation of the endometrium. The endometrium is the innermost layer of the uterus that is shed as menses during menstruation. Endometrial hyperplasia may cause heavy menstrual bleeding or prolonged bleeding during menstruation. The uterus may become bulky and larger than normal.
Natural Remedy For PCOS
If you will like to overcome the challenges of PCOS, you might want to consider getting the PCOS Remedy Kit. With the PCOS Remedy Kit, you will get rid of PCOS and improve on you fertility.  Click here to read more about the Kit.
Summary
PCOS is a complex female health issue. It consists of many different health issues and risks. If permanent diet and lifestyle changes are implemented, these risks and health issues may become obsolete. There are many ways to support the proper health of a woman's body that is dealing with PCOS. Important key tips;
1. Make sure your doctor performs the correct tests and you get a proper diagnosis.
2. Follow a PCOS specific diet (I will write about this later) to help decrease insulin resistance, balance weight, promote estrogen metabolism.
3. Promote hormonal balance and support regular ovulation. Consider supportive herbs and supplements.
4. Support proper inflammatory response.
5. Stick to your plan, believe in yourself, you have the ability to change your circumstances!
If you have gained anything from reading this, don't hesitate to share it with others too. Put your comments and questions or topics you will like us to write about in the comment box below.
Stay Healthy And Never Give Up!
Plan B Wellness Center
Tel – 08099666650
Email – consult@planbwellness.com
Twitter – @planbwellness
Add Your Comments
comments