EXCESSIVE BLEEDING DUE TO FIBROID STOPPED WITHIN ONE WEEK
One of the major challenges that accompany uterine fibroid in many cases is the issue of excessive bleeding due to fibroid.
In fact, it has been reported that 25% of all abnormal pre and postmenopausal bleeding is caused by endometrial polyps. Growths within the uterus are known as endometrial polyps or uterine fibroid. Polyps typically cause irregular bleeding while fibroids commonly cause heavy bleeding.

We have had cases reported to us of women that bleed for several days continuously and even at times for a whole month or more as a result of fibroid. Such is the case of the owner of the testimony we are sharing today and you can see the message she sent to us below;
After battling with fibroid for a while coupled with excessive bleeding due to fibroid, she opted for our Natural Fibroid Treatment and within one week of taking the treatment, her bleeding stopped. This is something she has tried different kinds of treatments to tackle to no a avail but out natural fibroid remedy delivered that to her within just one week.
Even if her fibroid is not gone totally yet, that the bleeding has stopped and the fact that she can regain her health and freedom is enough for her to be happy. This is how our natural remedies are different; they do not just treat your ailments, our natural remedies offer you total happiness and freedom.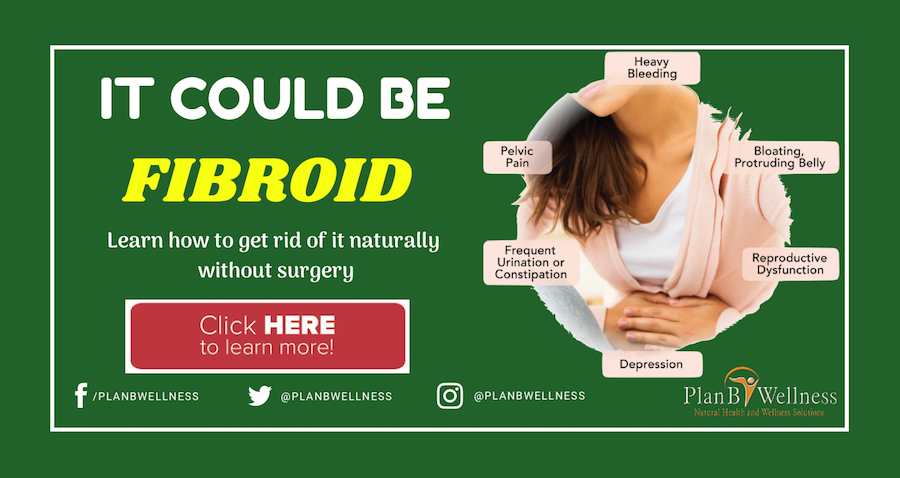 Are you suffering from fibroid and desire an effective natural remedy to treat your fibroid? Then your solution is here! Click here to read about our Fibroid Remedy kit.
What is your biggest challenge when it comes to fibroid? Tell us in the comment box below and we will get you a natural remedy to overcome it too. So, go ahead and tell us using using the comment box below.
Stay Healthy and Never Give Up!
Plan B Wellness